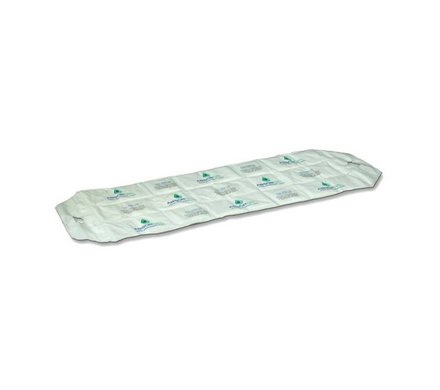 Absorgel Blanket dessiccant
Absorgel Blanket is a simple and sure product designed to absorb moisture inside containers. The case is made of recyclable polyethylene with fiber fleece on the top. The PE film keeps moisture from escaping underneath.

Perfectly suitable for containers loaded up to the walls where the Absorpole and Absorgel Hanging cannot be effective. The Absorgel blankets starts working as soon as it is removed from its transparent sealed packaging. It can be placed on top of the cargo or pallets with the printed side facing upwards. The calcium chloride absorbs moisture from the surrounding air passing in through its breathable packaging. The Absorgel's adhesive gel ensures absorbed moisture stays in the product. A film of recyclable PE plastic on the lower side ensures that moisture cannot escape below. The Absorgel Blanket is also fitted with adhesive pads below to keep it securely in place. Absorgel Blankets can be used for all types of cargo. They are especially suitable when the cargo is tightly packed close to the container ceiling and walls. Absorgel Blankets are also suitable for reefer containers and trailers that do not have lashing rings to hang desiccants.
High absorbency
Non-toxic
Non-flammable
Environmentally friendly
Easy to use
Cost-effective
Suitable for
Fresh produce
Automotive
Chemistry
Pharmacy
Horeca
Supermarket
Transportation & Logistics
Horticulture
Foods