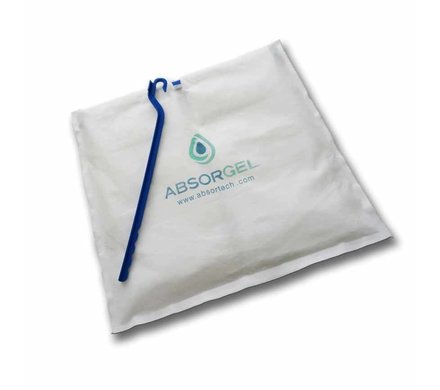 Absorgel Max is based on the proven ability of calcium chloride to aggresively remove moisture from the air. The absorbed water is bound into a gel so no liquid water is formed, which prevents leakage.

Absorgel Max can be used for all types of cargo and is especially suitable when the cargo is tightly packed close to the container ceiling and walls. The dessicant is a single-use product and can be disposed as regular waste. The calcium chloride and gelling agent are non-toxic and the polyethylene (PE) plastic is recycable.

With the patented Absor-Hook System it is easy and quick to hook the Absorgel Max on and off the container lashing rings. No ladder is needed and you will save time, effort and money.
Easy to use
Suitable for tightly loaded containers
High absorption capacity
Unique suspension
Environmentally friendly
Suitable for
Fresh produce
Automotive
Chemistry
Pharmacy
Hospitality industry
Supermarkets
Transport & Logistics
Horticulture
Foods