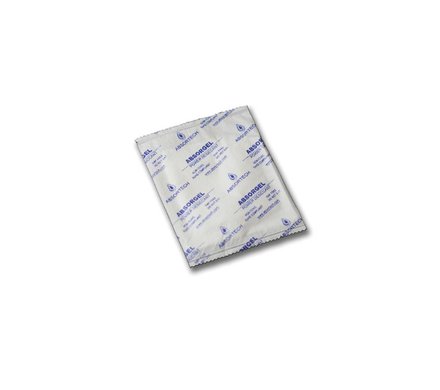 Absorgel Pouch 10 gr (500 pcs) dessiccant
Absorgel Pouches are effective in controlling moisture inside of small crates, cartons and other types of packaging to prevent mold, fungus, rust and other moisture related damages. The active ingrediënt in the Absorgel Pouch is calcium chloride, which has a superior abiity to absorb moisture from the surrounding air. Absorgel Pouches can absorb over 10 times more than traditional dessiccants. The absorbed water is bound into a gel so that no liquid water is formed.

The Absorgel Pouch exists of two layers of packaging material and starts working as soon as its removed from its transparent packaging. The quantity of Absorgel Pouches needed will vary depending on various factors such as the size and type of the packaging, type of cargo shipped, shipment time and climatic conditions during the shipment.

Absorgel Pouches can be used for almost any type of cargo that requires moisture protection.
High absorption capacity
Fewer units needed
Occupies less loading space
Cost-effective
Easy to use
Environmentally friendly
Suitable for
AGF
Automotive
Chemistry
Pharmacy
Horeca
Supermarket
Transportation & Logistics
Horticulture
Foods