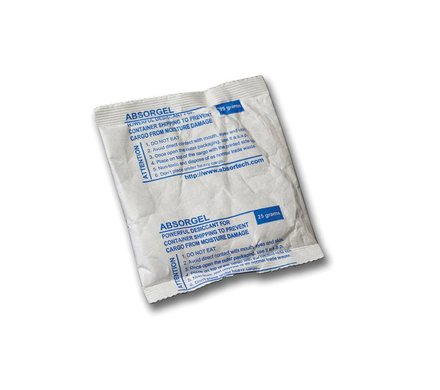 TY Absorgel Pouch 25 gr (400 pcs) dessiccant

Absorgel Pouches are efective in controlling moisture inside of crates, cartons and other types of packaging to prevent mold, fungus, rust and other moisture related damages. The active ingredient in the Absorgel Pouch is calcium chloride, which has a superior ability to absorb moisture from the surrounding air. Absorgel Pouches can absorb over 10 times more than traditional inbox desiccants. The absorbed water is bound into a gel so that no liquid water is formed. read more

If you have experienced some moisture to your cargo during transportation can do, you understand why you should protect it from moisture. Absortech specializes in developing efficient and innovative absorbers to protect your products from moisture during transport or storage.

Our container Desiccants are based on calcium chloride and have a strong absorption capacity n operate within a wide temperature range. They are designed to hang in shipping containers and take up a minimum of space. Absortech Desiccants are easy to use and are designed to hang in a ledge on the side of the container, or on the ceiling. Minimal space is occupied and possible damage from trucks is avoided during loading and unloading.


Easy to use
High absorbency
Moisture is converted into gel
Suitable for
AGF
Automotive
Chemistry
Pharmacy
Horeca
Supermarket
Transportation & Logistics
Horticulture
Foods